Keeping your PC in top notch condition is very important for its longer life. There are plenty of tools present there that allow you to perform maintenance tasks on your PC and the most recent among them is PowerTools Lite 2013 – a very robust Windows registry cleaner that ensures the overall health of your computer by simply performing a number of registry scans. It allows you to fine tune the registry, fix errors, and remove superseded entries as per requirement. Along with the cleaning the registry, it also has an immunization feature that allows you to block malevolent websites from accessing and spreading malware threats on your existing system. This in turn adds an extra shield of protection and maintains your privacy to the required level. Apart from being feature-rich, it also shows up with a user-friendly interface that makes it easy to deal with.
Clean Windows 8 Registry Errors
Once launched, the tool begins analyzing your system. This process has the capacity to last anywhere between 2 to 10 minutes that primarily depending on your system performance and registry size. Upon its completion, you're taken to the main interface. The main screen houses four different buttons: Registry Cleaner, Immunize my computer, Backups, and Settings. Furthermore, it displays your PC and Registry Health percentage at the lower left corner.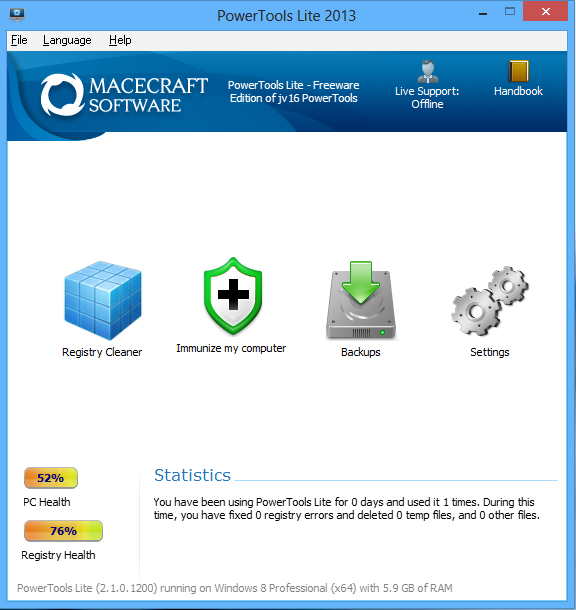 Since it's a multilingual software, you can always head to the Language menu and select your preferred language. Almost all the major languages are supported by the tool.
Registry Cleaner is the obvious mainstay of PowerTools Lite. It allows configuring a number of settings prior to commencing the scanning process. Though since the tool modifies your computer's registry, it's a good idea to proceed with caution while making any changes. Simply leave any setting to its default state if you're not sure what you're doing, and you should be good to go. The tool's scanning engine supports four different modes, ranging from safe scanning to very aggressive cleaning process. Power users can always tweak further options under Additional safety, Advanced engine settings, Scanning mode, Additional options, Search words, Ignore words, and Grouping. In a nutshell, there's a plethora of tweaking options in the toolkit. Clicking the Start button begins the scan.
The tool comes up with a report summary at the end scanning process, which includes details of total number of errors that are found in the registry. The report also contains a registry health score and registry scan speed up further. That states that you can also peak at a pie chart and there you will have the chance to sort out results in terms of Found errors and Distribution by root.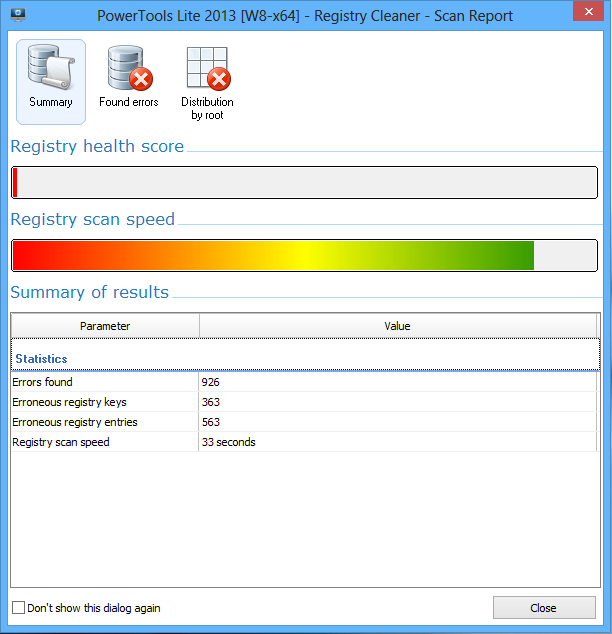 Now we will look at the registry fix process itself – the tool lets you manually fix or delete the errors that get detected in the scanning process. Errors are likely to range from Invalid entries to Obsolete software entries, or other unwanted items might get included too. You just need to select the entries that you want to fix/remove and after that click Fix or Delete, respectively in order to get rid of them.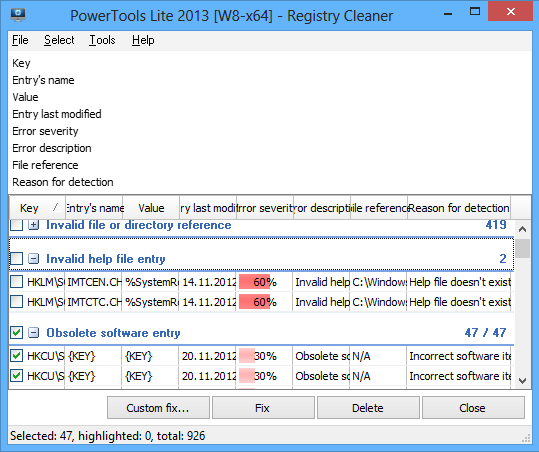 The good thing about Power Tools Lite is that it automatically creates a backup before it proceeds with the deletion process or modification of a registry entry. Therefore, you may quite easily revert back to the old system state in case any changes made cause some system malfunction.
The Backup Tool is where you have the option to easily restore the automatically created backups. Apart from restoring the backups that already exist, you also have the option to create custom backups for Internet Explorer Favorites, Start Menu, Add/Remove Software list, My Documents folder, Items on your desktop, and PowerTools settings etc. from the Tools menu.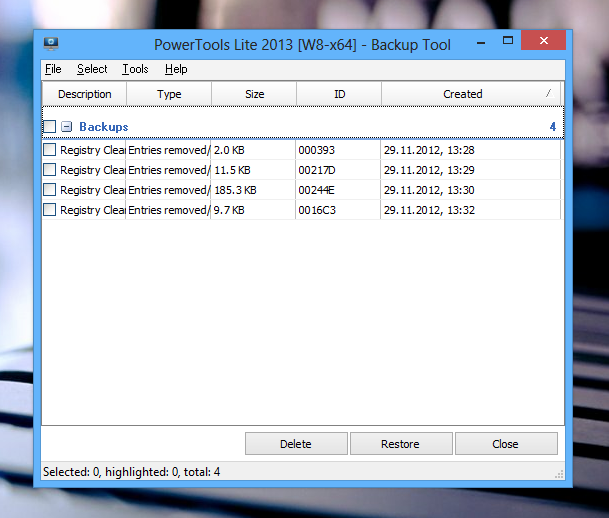 To wind up the whole thing, PowerTools Lite 2013 is a great registry cleaner jam-packed with a wide range of features. It must be kept in consideration that the review highlights just the very significant features of the app and might have missed or overlooked a few more advanced options that might be present there. PowerTools Lite 2013 is workable on Windows XP, Windows Vista, Windows 7 and Windows 8.
Download Software Here