Everybody wants to keep their personal data safe. You might own digital data for instance documents, images, videos, etc. – that you don't want anyone else to see or have access to. If you have a publicly accessible system, this wish of yours will always remain a wish.
BitLocker to shows up as the rescue here! It is a technology that is provided by Microsoft which allows you to encrypt an entire drive (both internal or removable). Hence, you can keep your sensitive data within such a drive, and encrypt it with BitLocker. Once you have done that only those people who have the password, can get access to the drive. So, your data would remain secure.
Here, we will talk a bit about the working of the BitLocker.
Launch Bitlocker Drive Encryption Service Windows 8
First thing that you would be doing is Open the traditional Control Panel via Start Screen or by using the Run Windows command "control".
After that Select "Category" view for Control Panel.
Then simply Select "System and Security" category. This would open a new page that will have the subcategories.
Later on, Select "BitLocker Drive Encryption". This will lead to the launch of the applet on the same control panel page.
The main page of the applet has the list of all the logical volumes that are identified by the system. It must be Kept in mind that the list contains the logical volumes and not certainly the physical drives. A logical volume might be a component of a physical drive, an whole complete physical drive, or can consist of one or more physical drives. The simplest way to know the logical volumes that are in your system is to figure out all the partitions listed by Windows Explorer. These ones would be the logical volumes listed by this applet.
The applet comes up with BitLocker status for each drive – whether it is on or off for the drive. In case let us say that it is off for a drive then it will provide you with a link that will allow you to turn it on. Or if it is on for a drive already, then it shows up the options provided below:
The first and most important one is Back up the recovery key (in case you lose the password)
After that Change or remove the password
you can also Turn on auto-unlock – this will automatically lead to the unlock the drive for the existing user on the current system. BitLocker won't ask for a password.
It will also give you an option to Turn off BitLocker – that will allow you to Remove the protection of encryption. it must be kept in mind that this would again make the data accessible to everyone.
In order To turn BitLocker on for a drive, simply click "Turn on BitLocker" link that is located besides that particular drive. This will lead to a launch of a wizard that will guide you through the necessary steps.
Create an Authentication Method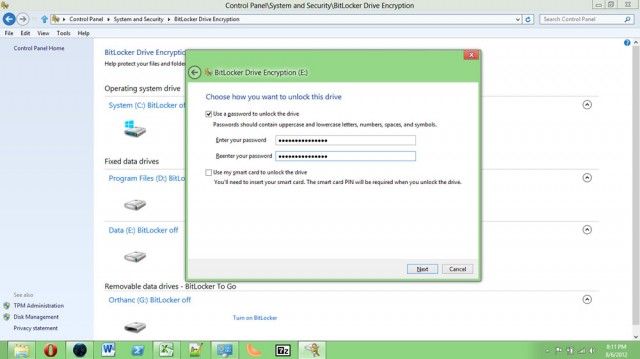 Firstly, you will be asked to create a powerful password, a combination of mixed case alphabets, numbers, and special characters would be a preference. Windows also shows up (a better or say cooler) alternative to password – that is also called a smart card registration. In that case you are required  to insert a smart card, the pin of this card will be used as an access authentication.
Bitlocker Store Recovery Key
BitLocker also provides you with a recovery key in case you forget the password or smart card's pin. You would be required  to safely store this key. You have the option to either store it to your Microsoft Account (it must be noted that you are required to be logged in through a Microsoft Account for this), to a flash drive, to a file, or print the key as a hard copy, depending on what you like or prefer.
What Way you Want to Encrypt your Drive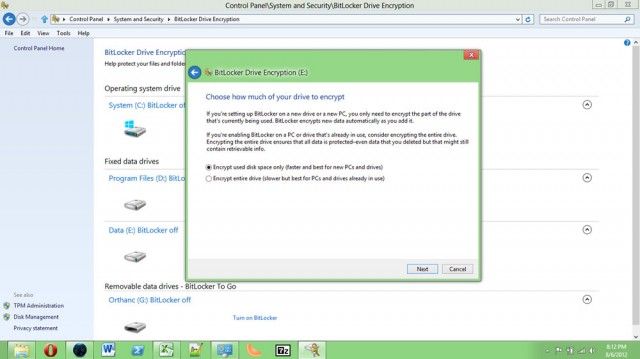 Windows 8 comes up with two ways in which you can encrypt a drive.
Encrypt only those parts of the drive where the data resides. This is a quick way since BitLocker doesn't waste time in encrypting empty disk space. This is the best choice for new drives.
Encrypt entire drive. Though this is comparatively slower than the previous option, you might opt for  this for older drives. The unused space in the older drives is likely to still contain shreds of deleted data, that might be recovered through certain data recovery software. So the best  idea is to encrypt the whole drive.
Confirmation
The wizard does ask you for a final confirmation, once you have done it, the encryption begins.
The encryption process can be time consuming, depending on the size of the drive.
Once it is over, your drive is protected by BitLocker encryption. Next time when anyone tries to open that specific drive, Windows will pause and ask for password.
You have the option to remove the protection from the applet at any time you want to.
So, BitLocker abolishes the usual requirement of a third-party tool that was required for data protection.