Windows 8 allows access to the installed apps only via Start Screen. So, if you are looking forward to access an app, you will have to open the start screen first, look up for the required app, and after that open it. It is not a difficult task if the number of installed apps is not too much; anyhow, if you have a larger number of apps installed, searching for the one that you want to launch can be difficult and time consuming task. One solution to this problem is to use the search feature of the Start Screen that lets you to search for apps, files, folders, settings and everything else that is present on your computer, by simply typing its name directly on the screen. You can call this as the same search feature that is provided in the Start Menu of Windows 7, but since Windows 8 does not possess a Start Menu, it functions through the Start Screen. In previous Windows versions, Desktop shortcuts allowed you to launch the frequently-used applications very quickly and save the trouble of either looking up for them or going to their install directory.  There is an application for Windows 8 that allows you to easily add shortcuts to the Desktop. MetroApp Link is a moveable tool that allows you to add shortcuts of default Metro apps to the Desktop workspace that is present in Windows 8.
Tutorial To Convert Windows 8 Metro Apps icon in Windows 7 Desktop icons
Having the shortcuts of frequently used Metro apps on your desktop screen lets you to save time that might get wasted in searching up for them using the Start Screen. Also that, it reduces one step of opening the Start Screen when you are launching the app. As already mentioned the app is portable, you will not have to install it. Just take out the zip file and run the application. At the first start, a message pops up that will ask you to install the icon library. Click on 'Yes' in order to continue.
Once you are done with this, the main interface of the application will pop up, that will allow you to create shortcuts for all the native Metro apps that are available. The interface contains separate icon for each app, along with a Create Shortcut button. You are required to 'Click' on the 'Create Shortcut' button in order to place the shortcut of the corresponding app on the Desktop.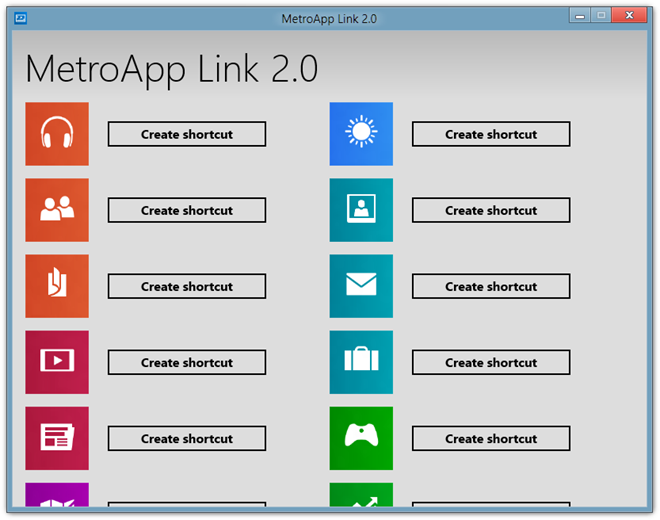 The shortcuts will be placed on the desktop instantly and can be used to launch the apps without being required to open and search for them using the Start Screen.
The main interface just contains the icons of Metro apps, and it will become way too easier to identify them if their names can also be seen with the icons. MetroApp Link is workable on both 32-bit and 64-bit versions of Windows 8.
If this method not working for you then try these different methods to disable and customize windows 8:
- How To Turn off Metro in Windows 8
- How To Close Apps in Windows 8
- How To Enable Start Menu in Windows 8 Via Software
- How To Enable Start Menu in Windows 8
- How To Disable Modern UI From Windows 8
- How To Disable Windows 8 Lock Screen
- Turn off Charms Bar and App Switch List in Windows 8
- Convert Windows 8 Metro Apps icons in Windows 7 Desktop icons