Once Yahoo was done with the redesigning of its Mail service in order to improve the speed, it has now released official Mail app for Microsoft's latest Windows 8 operating system. Yahoo! Mail users now have the opportunity to  install the app by simply visiting the official Windows 8 Store using the Store app.
Yahoo! Mail app for Windows 8 contains an easy-to-use interface and also has all options that one would generally expect from a decent email app. Using the app, one gets an option to send and receive messages, share photos, videos, documents, search emails, scan messages in the inbox with the help of continues scroll, and many other.
Download and Install Yahoo Mail App For Windows 8
The app also shows up with live tiles feature. This comprises of the options that allow one to view the new message right on the Start screen as soon as  there is a new message arrival in to the inbox.
The recent version lacks the quality of multiple account support, the options that allow to adjust the font size, and adjust columns. Yahoo! will primarily introduce these missing features and options in the next release that will follow.
By default Yahoo! Mail adds up "Sent from Yahoo! Mail for Windows 8" text as the signature of your mail. In order to change it or turn off signature, once you are done with signing-in, you are required to move the mouse cursor to the upper or lower right corner of the screen in order to open Charms bar, click Settings and then in the end click General.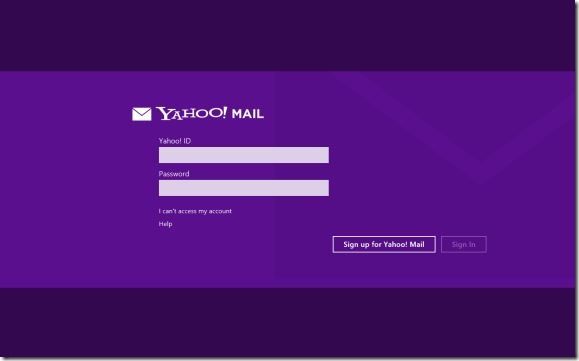 You must visit the download link that is given in the end and after that click View in the Store button in order to open the link in Store app and finally in the end click Install button in order to start downloading and installing the app.
Once installed and launched, you will be required to enter your Yahoo! ID and password. Here you need to enter your ID and password and finally afterwards click Sign in button in order to start syncing. Users who don't have a Yahoo! Mail account have the option to use mail to sign up for Yahoo! Mail by simply clicking on the Sign up for Yahoo! Mail button.