Not like its antecedents, Windows 8 comes up with its own PDF (Portable Document Format) reading app that is labeled as Reader for opening and viewing PDF documents. But if you're searching up for a better PDF reader that is specifically designed for touch user interface, you now have the option to download an app that is developed by none other than Adobe. My previous article was about how to print pdf in Windows 8 and now this article will provide official download for Adobe Acrobat Reader App for Windows 8.
Adobe has recently announced the availability of its much famous PDF reading tool Adobe Reader for Windows 8 and now comes up in the Windows Store. The Adobe Reader app has been specifically designed for Windows 8 touch user interface.
With Adobe Reader for Windows 8, one gets the option to quickly open PDF documents, open and read password protected PDF files, share PDFs with other apps using Share charm, and many more. The recent version of the app that contains search text option in order  to find particular information in the document, zoom in, and bookmarks option in order to jump directly to a particular chapter in your PDF document.
In order to change viewing modes, first you are required to pilfer from the bottom of the screen that will allow you to view the app bar and afterwards tap View Modes button in order to select Single Page or Continuous view mode. If you are looking forward to find a specific word or information in the document, you are required to open the app bar by simply right-clicking anywhere on the document or by swiping from the bottom of the screen, after that click or tap Find button, then enter the keyword, and finally in the end click or tap search button.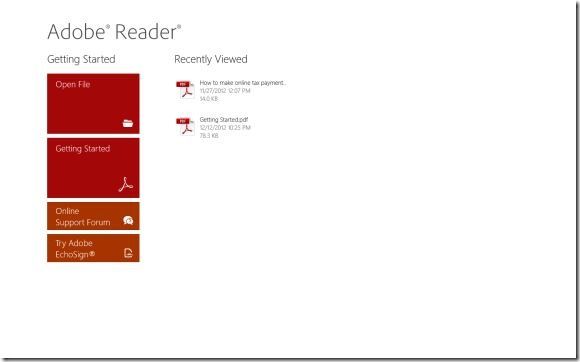 To jump to a specific chapter using bookmarks feature, you need to first open the app bar and then click or tap bookmarks button located on the upper right of the screen, and then click or tap the chapter you would like to jump to.
If you are looking forward to move from one page to another, you can just swipe left or right. And if you're in continuous view, you are required to swipe up or down on the screen in order to change pages. During reading a PDF document, pinch to view all of your thumbnails and tap a thumbnail in order to  jump to a specific page fastly.
Install Adobe Reader app for Windows 8 if you're a current user of Windows 8 tablet as Adobe Reader is no doubt the best PDF reader available for Windows 8 currently.
Adobe Reader (Official link)